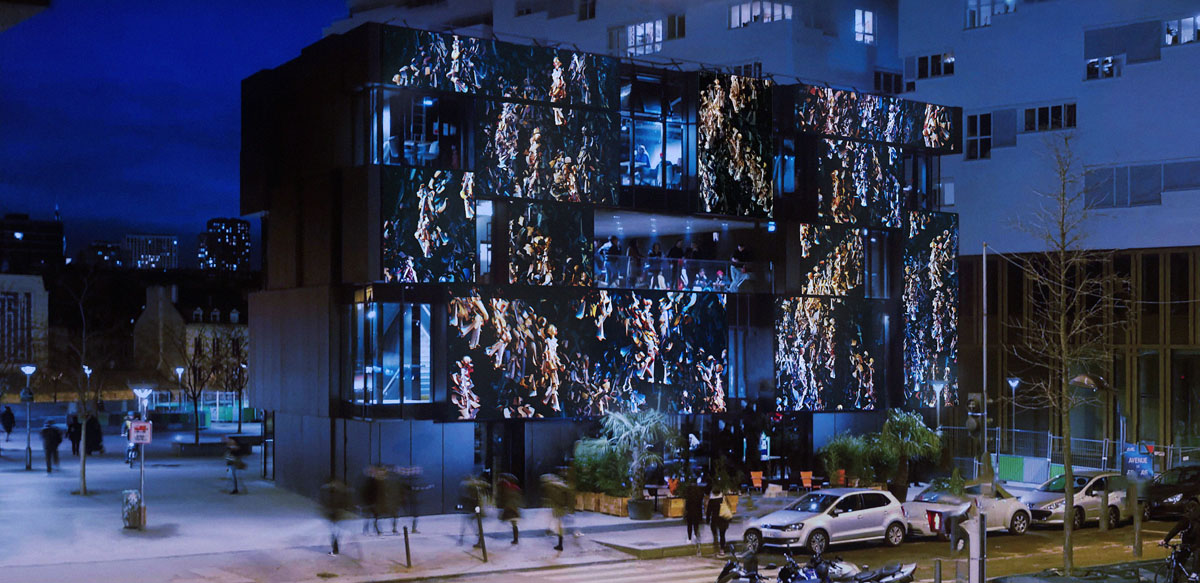 Nude Descending a Staircase No.3 by Marco Brambila
Nude Descending a Staircase No.3 by internationally renowned artist Marco Brambilla is a kinetic interpretation of Marcel Duchamp's seminal cubist 1912 masterpiece Nude Descending Staircase, No. 2.
This installation of the piece is the third in 2019, having already been exhibited in New York and London, Brambilla has adapted the piece to be displayed across the evocative and multifaceted façade of EP7,Paris. Fittingly, Duchamp for a time in 1913 worked as a Librarian at Sainte-Geneviève Library in Paris,just after the completion of Nude Descending Staircase, No. 2. therein providing another layer of pathos to this project, given EP7's location adjacent to the French National Library.
Covering the entire 170 metre wide expanse of EP7, Nude Descending a Staircase No.3 transposes the iconic Duchamp painting from a still image to a moving image, one now bound by the dimensions of time and space. The alluded movement in the original painting is explored by Brambilla via a multitude of collaged figures constantly reconfigure and refresh themselves, whilst cascading down immaterial stairs. These figures are displayed across eleven faceted LED screens, which compositionally evoke the kaleidoscopic fracturing of the original cubist painting.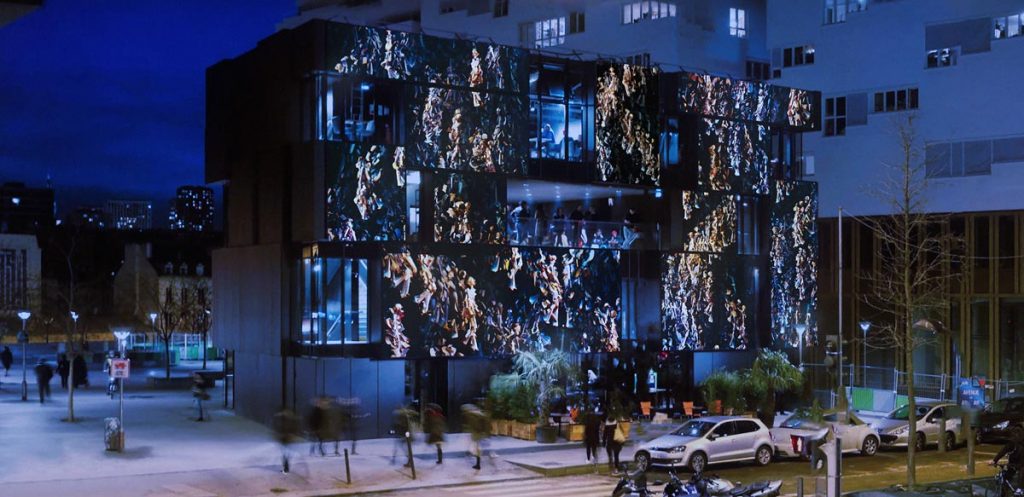 The figures, shapes and colour palette are inspired by the composition of the original painting, now realised in three dimensions using state-of-the-art machine learning technology. The original 1912painting, is often identified as a moment where an artist drew from a "new" technology (Eadweard Muybridge's photographic time-studies) as inspiration for a painting. By taking the original Duchamp painting back into the nascent technological realm and adding the dimension of time, Brambilla completes the circle and pays homage to the deconstructed image using a wholly contemporary visual language.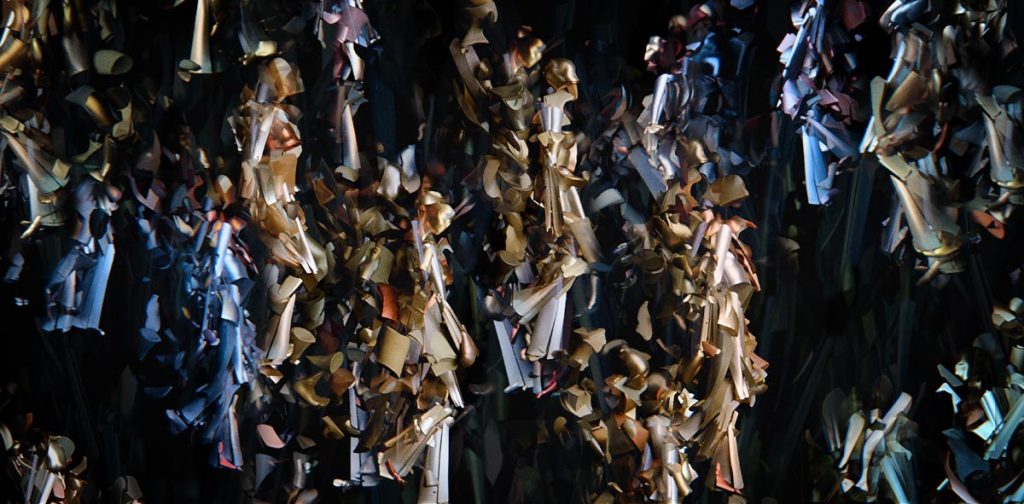 about the artist
Brambilla is a video installation artist based in London. He is primarily known for his elaborate re-contextualizations of found imagery, often employing new technologies in his work. He has pioneered the use of 3D technology in video art with his Megaplex trilogy, LiDAR computer-mapping for Anthropocene (a public art installation in New York City), as well as elaborate computer simulations of an Apollo launch, presented on 54 screens in Times Square (2015). 
Brambilla's work has been internationally exhibited and is in the collections of the Museum of Modern Art, Guggenheim Museum (New York); San Francisco Museum of Modern Art; ARCO Foundation (Madrid); and the Corcoran Gallery of Art (Washington D.C).
Notable shows include New Museum, New York; Santa Monica Museum of Art (Retrospective); Seoul Biennial, Korea; Broad Art Museum; and Borusan Contemporary, Istanbul; Kunsthalle Bern, Switzerland. He has also made public art installations presented by Creative Time and Art Production Fund (New York).
Brambilla is a recipient of the Tiffany Comfort Foundation and Tiffany Colbert Foundation awards. His work has been featured at the Venice Film Festival and Sundance Film Festivals, as well as Fondation Beyeler in Basel, Switzerland 
The installation can be seen until 9 February 2020 Location: 133, avenue de France, Paris 13e
More info on www.marcobrambilla.com/