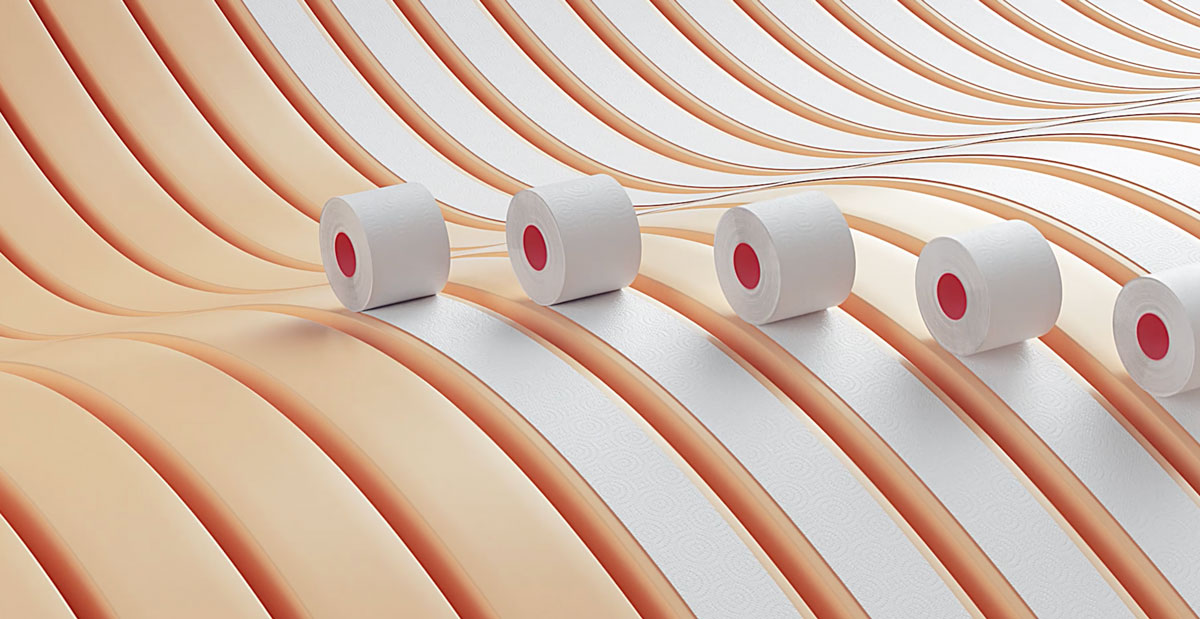 ARTISTS LOCKED DOWN – ARBEN VLLASALIU
Why did the toilet roll roll down the hill? To get to the bottom. Awful jokes aside, the insane scramble for toilet paper just before the lockdown was a surreal phenomenon and not in the slightest bit funny. Inspired by this crazed behaviour, Arben Vllasaliu decided that the humble roll should take on hero status and gave it the starring role (no pun intended) for this, his kitten soft 'Artists Locked Down' piece.
How have you been feeling during the lockdown period?
This is so hard to answer because to me, it was almost the same routine as before the lockdown! It's been 4 years now that I have been working as a freelancer. So I'm kind of used to staying at home and working on my daily tasks. But of course, I was worried about other people's health and the current situation.
What have you been doing to stay positive? What have you been reading / listening to / watching?
I think the Lockdown had its own positive sides too, and the best thing of it was that I was able to talk with my family members more than usual. So we ended up suggesting different movies and books to each other. But again the main factor that keeps me positive is the process of creating art. This has always been a therapy to me!
How have you found the creative process during lockdown?
It was really hard to stay focused and still it's been harder and harder to avoid the news and the chaos that is going on! It really affected my creative process. But once you understand that this is not a first time happening, it kind of helps you to release the tension and fear.
What has inspired you /your work during lockdown?
Definitely Art as always. But not only that, I found it really inspiring how people started to create tv shows from home just to keep us informed and entertained at the same time. I believe this was the first time that I found joy watching the news, Trevor Noah had the coolest way to keep people informed and calm them down while showing the news. He is too funny.
How are you feeling about the future?
I don't know, Since most countries started easing the restrictions, I believe there is a light at the end of the tunnel. I'm totally fine with staying at home, but I was hating the fact that I couldn't go outside and have a cup of coffee, as this is the most important thing to do on my daily basis. Coffee and alone time keeps me motivated and helps me to think clearly. So let's hope for the best.
About Arben Vllasaliu
Arben Vllasaliu is a freelance visual and 3D artist from Kosovo, now based in Basel, Switzerland. Growing up in a family of artists he discovered his passion for art at an early age. After graduating from the High School of Arts in Gjilan (Republic of Kosovo) he honed his skills working for leading design companies in Kosovo before embarking on his solo career. Having over ten years of experience in graphic design, ranging from web design to video production, he now focuses on his own projects as a freelance visual and 3D artist. His animations on social media, such as Instagram and Facebook, are renowned for their satisfying look and feel and have been viewed by millions of people across the globe.
"My art is kind of a mixture of expressionism and surrealism. My intent, whenever I create, is to help enhance relaxation, stir imagination and create enjoyment in people's lives."
See more work by Arben Vllasaliu